My sweet friend, Megan {she has a fabulous name, don't you think?! hehe} who blogs over at
Just a Small Town Girl
, has a tremendous heart and passion for adoption, as well as assisting those who are currently in the adoption process. God has placed it on her heart to provide financial assistance to some
dear friends
of hers through Ornaments for Adoption.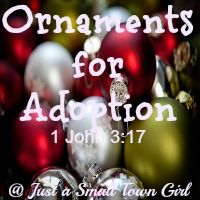 Megan is making custom Christmas ornaments- with 100 % of the profits made going to provide support for the Brock family. The ornaments are not only affordable, but they are absolutely darling! Not to mention, it will help this sweet family bring home their little one. Here is how you can help:
You can participate in Ornaments for Adoption. Ornaments for Adoption is my way to help these families that God has burdened my heart for.
There are 2 ways you can participate.
You can do just one of these things or you can do both.
All help is appreciated!

1) You can help spread the word. Pin this post to your Pinterest account. Link back to this post on your Facebook (tag me @Just a Small Town Girl's Blog), Twitter (tag me @JASTG_blog and use #OrnamentsforAdoption), Google+, or your own blog account. You can grab the Ornaments for Adoption button in my sidebar and post it on your own blog.

2) You can purchase an ornament. See more information about purchasing an ornament below.
Ornaments are custom made when you order them. The pictures will give you an idea of what I can do. You can view more pictures on
my Facebook page
which I would suggest "liking" because more pictures will be added as I make more ornaments.
All ornaments cost $6 plus shipping and handling. $4 from each ornament will go to the Brocks. The other $2 will be used to cover the cost of making and selling the ornaments. Please know that this will not cover the full cost of making and selling these ornaments. I am making no money from this.
To place an order, visit Megan's
blog
and locate the Paypal button at the bottom of the page.